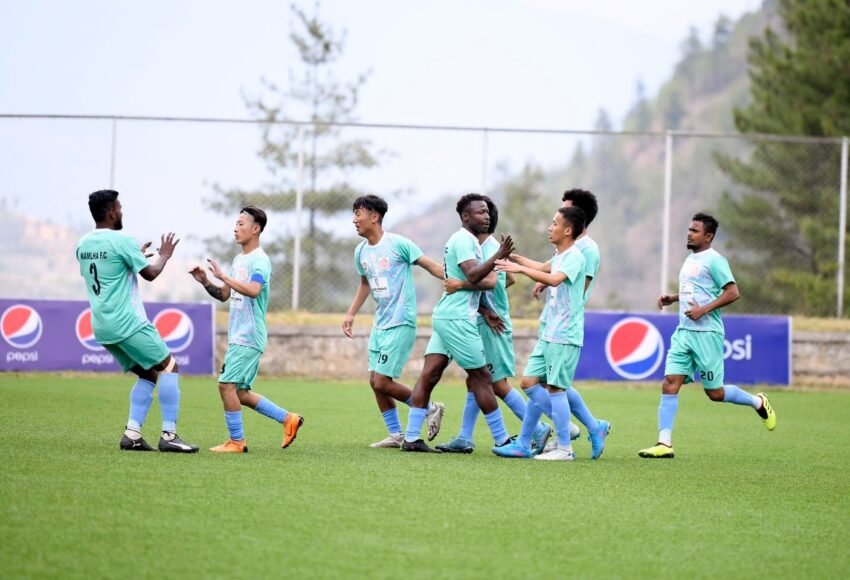 ๐"๐ก๐ž ๐ฌ๐ฉ๐จ๐ข๐ฅ๐ฌ ๐š๐ซ๐ž ๐ฌ๐ก๐š๐ซ๐ž๐ ๐ข๐ง ๐ญ๐ก๐ž ๐Ÿ๐ข๐ซ๐ฌ๐ญ ๐ญ๐ฐ๐จ ๐ฆ๐š๐ญ๐œ๐ก๐ž๐ฌ ๐จ๐Ÿ ๐"๐ก๐ž ๐๐ž๐ฉ๐ฌ๐ข ๐๐ก๐ฎ๐ญ๐š๐ง ๐๐ซ๐ž๐ฆ๐ข๐ž๐ซ ๐‹๐ž๐š๐ ๐ฎ๐ž ๐๐ฎ๐š๐ฅ๐ข๐Ÿ๐ข๐ž๐ซ๐ฌ, ๐Ÿ๐ŸŽ๐Ÿ๐Ÿ'
The Pepsi Bhutan Premier League Qualifiers, 2023 started today at RTC Ground. The first match of the qualifiers was played between Tensung FC and Namlha FC. Tensung FC led through Kelzang Dorji in the opening half, but Namlha FC pulled one back from the set piece by the forward, "Zakali Leonce Dodoz" in the second half. Although Tensung FC were much more comfortable with the ball, Namlha FC were good enough to hold the score line at 1 – 1 till the final whistle. The man of the match, Samten Norbu of Namlha FC stated that it was their first match together and we couldnโ€™t cope much in the opening half, but in the second half, we were much more organized and pulled one goal back, and we are happy to take a point because Tensung FC are not a team that we should underestimate.
The second match of the day was played between Thimphu Raven FC and BFF Academy. The match ended in a draw after each team scored in the opening half. The opening goal of the game came from a penalty kick from the skipper of BFF Academy after the forward, Karan Uron was brought down by the defender of Thimphu Raven FC. The skipper, Pema Zangpo hit a decent low kick, which the goalkeeper of Thimphu Raven FC drove the right way but was unable to stop. Their lead was short lived when the goal of Thimphu Raven FC came from a long range effort from the midfielder, "Khenrab Rigzin Wangdi" after the half-hour mark.
Tomorrow, Samtse FC is going to face Phuentsholing City FC at 2 p.m. at RTC Ground.