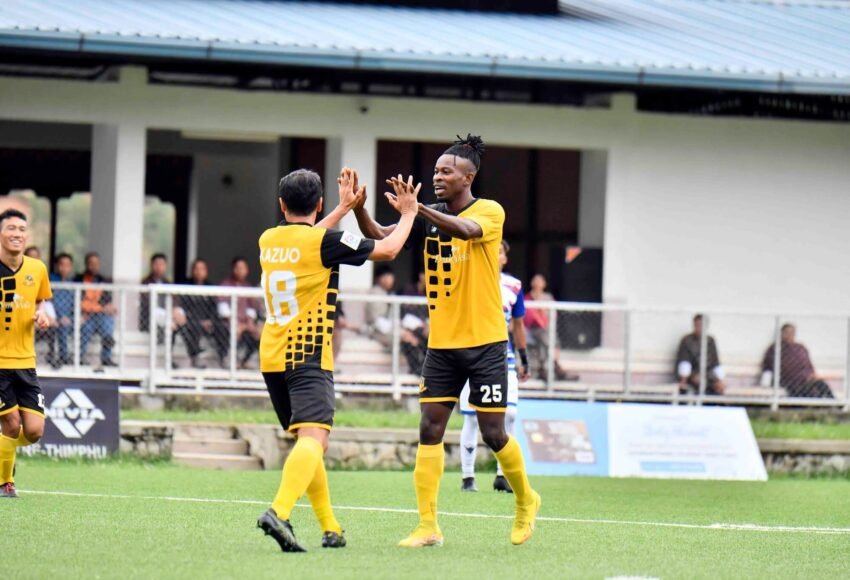 Paro FC Edge A NArrow Victory Over RTC FC
In the 20th match of the ongoing BoB Bhutan Premier League 2023, RTC FC faced off against Paro FC at the RTC Astro Ground. The intense encounter saw Paro FC emerge victorious with a 3-2 scoreline. Kazuo Homma of Paro FC initiated the scoring spree by netting the first goal in the 5th minute, capitalizing on a precise cross from the right flank. As the match progressed, Phub Thinley further bolstered Paro FC's lead, finding the net in extra time during the second half, courtesy of a pass from Evans. The third goal for Paro FC was a spectacular long-range strike from Karma Chetrim, expertly placing the ball into the top right corner of the net. The opening half concluded with Paro FC in a commanding position, holding a three-goal advantage.
RTC FC fought back valiantly in the second half, determined to bridge the gap. Kezang Jigme provided a glimmer of hope for RTC FC as he converted a penalty in the 62nd minute, following a foul on Jigme by Paro FC's defenders within the penalty box. The momentum continued for RTC FC as Sonam Jugdrel Chozang notched their second goal in the 76th minute, executing a skilful first-touch lob from outside the penalty box that evaded the goalkeeper's reach.
Despite their spirited efforts to level the score, RTC FC ultimately fell short by a single goal as the final whistle sounded. The man of the match was given to Phub Thinley of Paro FC after he scored a goal and set up a goal for Kazuo's opener. The victory propelled Paro FC to the second spot on the points table, trailing Transport United FC solely on goal difference. On the other hand, RTC FC currently occupies the 7th position, having secured only one victory in their last four matches. The match showcased an engaging clash between the two teams, with Paro FC ultimately emerging as the triumphant side in a closely contested affair.