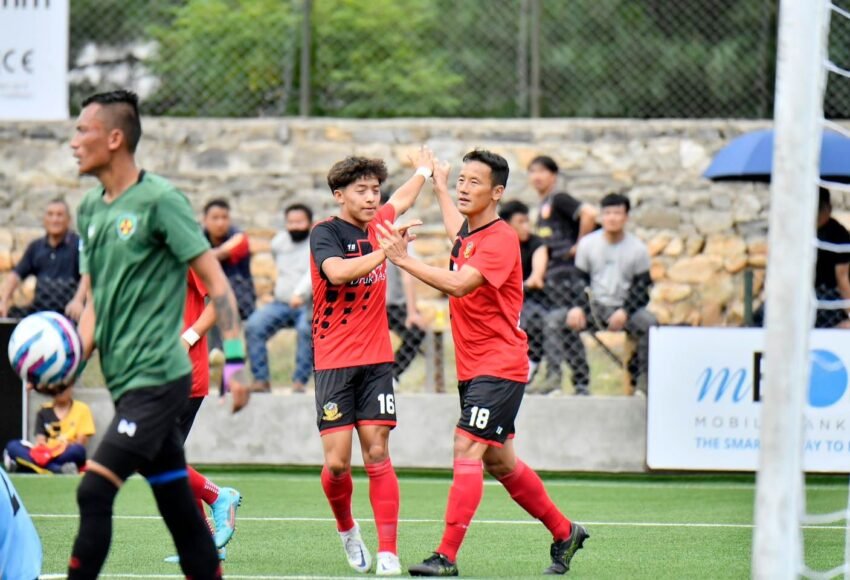 Kazou Scores A Perfect Hat Trick To Secure 3 Points In Their First Home Game.
In an exhilarating football clash at the Paro Woochu Sports Arena, Paro FC emerged victorious with a stunning 3-1 triumph over Tensung FC. Paro FC had five changes in the starting eleven as compared to their first starting eleven. Meanwhile, Tensung FC made a change in their defensive line by dropping their captain, Sonam Phuntsho, due to an injury.
Right from the kickoff, both teams displayed remarkable intensity, but it was Paro FC who drew first blood with a well-timed goal from striker Kazou in the 7th minute after a sublime cross was made by Evans inside the box. Undeterred, Tensung FC fought back valiantly, managing to temporarily level the score with a brilliant strike of their own in the next two minutes from their striker, who collected the ball inside the penalty area and launced a powerful strike. His shot hit Lobzang Chogyel's thigh, which was then deflected inside the net, making his goalkeeper go the other way.
Paro FC exhibited their attacking prowess, putting relentless pressure on the Tensung FC defence. In the 15th minute, Kazuo Homma, their striker, hit the woodwork from close range. Their relentless efforts paid off in the 29th minute when Evans was pushed from behind by Leki Tandin. After consulting the VAR, Paro FC was given the penalty, Tensung FC player argued for the decision but was unsuccessful. Initially, Kazuo's shootout was saved by Tobgay, however, his clearance landed on Phurpa Wangchuk's feet, who was one step ahead of Tensung FC, who, then again crossed back inside the box. Kazuo comfortably slotted the ball inside the net, giving Paro FC a lead at the half-hour mark.
 Kazou Homma netted his hattrick of the match in the 31st minute from a well-delivered ball from the corner by Kinga Wangchuk. The first half ended in favour of Paro FC, with a scoreline of 3-1.
 The second half witnessed an intensified battle as both sides pushed harder to gain an advantage. Despite Tensung FC's spirited efforts to stage a comeback, Paro FC's defence held firm until the final whistle, cementing their well-deserved victory.