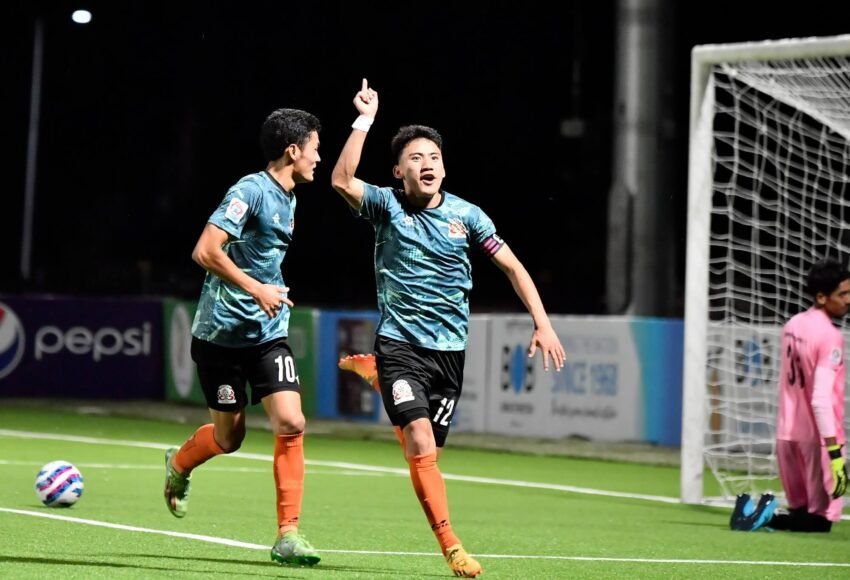 Captain Fantastic Delivers It When His Team Wants It The Most.
In a thrilling encounter between BFF Academy and Thimphu Raven FC, it was BFF Academy who emerged victorious with a brilliant performance in the second half, securing the first three crucial points in the BoB Bhutan Premier League.
The match began with both teams showing their determination and skill on the field, but it was BFF Academy that showcased its brilliance in ball possession and was the team who had the upper hand in the first half, creating numerous scoring opportunities and testing the Thimphu Raven FC defence and goalkeeper on many occasions. Thimphu Raven FC, on the other hand, were a different team than they were against the team that played against Tensung FC and were more focused and organized in the defence line. They managed to keep a clean sheet with some outstanding saves from their goalkeeper, ensuring the deadlock remained unbroken at halftime.
As the second half began, BFF Academy came out with renewed energy and determination, pushing forward with a more aggressive attacking approach. Their efforts bore fruit in the 66th minute when Pema Zangpo, the central half of the team, displayed his exceptional prowess in front of the goal, finding the back of the net with a powerful strike outside the box with an exceptional buildup. This breakthrough goal ignited the spirits of Thimphu Raven FC, which was pressing way too much upfront. The captain, Pema, wasn't content with just one goal; he already knew the situation of the opposition goalkeeper, who was always way too high from his area. Pema tried his luck with his powerful shot from his own half, and the goalkeeper was nowhere to stop his strike. Pema Zangpo once again showcased his scoring ability. His brace put BFF Academy in a comfortable position, but they were not done yet.n't
In the 84th minute, BFF Academy was awarded a penalty after consulting the VAR, presenting them with an excellent opportunity to further extend their lead. Pema Zangpo, displaying nerves of steel, calmly stepped up and converted the penalty, completing his impressive hat trick and solidifying his position as the hero of the match.
As the match reached the final 5 minutes of actual stoppage time, Thimphu Raven FC got two important chances for a consolation, but it was the goalkeeper of BFF Academy who showed his composure and stopped both of the shots.
The drama continued and did not end there. In the additional minutes of the second half, Kinzang Tenzin, another standout player for BFF Academy, managed to get on the scoresheet with a superb finish. His goal was the icing on the cake, sealing the match with an emphatic 4-0 victory for BFF Academy.
The final whistle blew, and BFF Academy celebrated a well-deserved win.