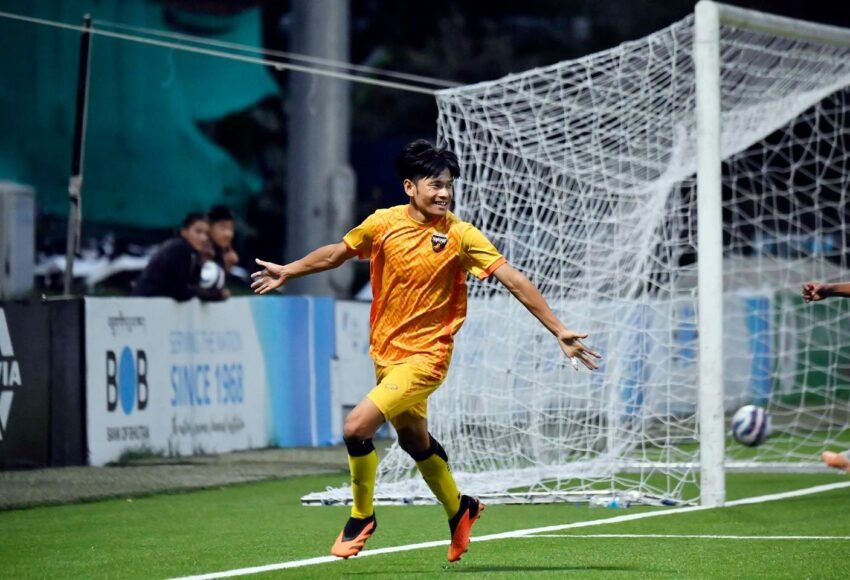 An Easy Victory For Transport United FC Over Namlha FC
In a commanding display, Transport United FC secured a resounding 5-0 victory over Namlha FC. Right from the start, Transport United exhibited their determination for more attacks, winning three corners within the first five minutes. The team made significant squad rotations compared to their previous match against Druk Lhayul FC, alternating between a 4-4-2 formation without the ball and a 3-4-3 setup during possession. Their efforts in the midfield third were prominent, with plenty of build-up play.
Namlha FC opted for a defensive strategy and leaned towards counterattacks. However, in the 21st minute, Ugyen Dorji's skillful header from a corner kick gave Transport United FC a well-deserved lead. Despite Namlha FC's defensive approach, Transport United FC continued their relentless pursuit, with Thinley providing a promising through ball in the 24th minute. Unfortunately, Dicka's attempt to loop the ball on target went astray.
Namlha FC managed their first corner in the 29th minute, but Transport United FC's solid defense easily headed the ball clear. Despite Namlha FC's pressure in the final third, they struggled to create meaningful chances. Tsenda Dorji extended Transport United's lead in the 30th minute, capitalizing on a defensive error from Namlha FC after a cross from the right flank.
The match saw its first booking as the defender, Chimmi Dorji of Namlha FC received a yellow card for a dangerous tackle just outside the box. Moments later, Melam Rigzin of Namlha FC missed an open goal opportunity, and Transport United FC quickly countered, though Dicka's shot went wide.
In the second half, Transport United FC made a substitution, replacing Kabi Raj and bringing in Singye Wangchuk, while Namlha FC brought in Tandin Dorji was brought in for Tandin. Transport United FC continued their attacking prowess, with Dicka delivering a powerful cross that the goalkeeper cleared for a throw-in right after the kickoff of the second half.
Namlha FC had their chance to bring one back in the 55th minute, but their striker's shot was saved by the goalkeeper, and the rebound hit the woodwork. As the second half progressed, Namlha FC resorted to long shots. In the 63rd minute, a mix-up led to an own goal by Namlha FC through Rajib Ghorou.
Tensions rose as both teams fought for possession. Transport United FC's jersey number 8, Mr. Jigme Tshering, received a yellow card for a reckless challenge right after he was brought in. In the 76th minute, a penalty was awarded to Transport United FC after Rajiv Ghorou's elbowing incident on Tsenda Dorji inside the penalty box. Initially shown a yellow card, Rajiv's punishment escalated to a red card following a video review. Phurpa Tenzin capitalized on the penalty, widening the scoreline to 4-0.
The final goal arrived in additional minutes, courtesy of Transport United FC's star player, who maneuvered through defenders and fired an unstoppable shot. The match concluded with Transport United FC clinching a dominant 5-0 victory, showcasing their prowess and versatility on the field.